LED Linear (Zone 2) LLN
LED Linear (Zone 2) LLN
LLN -P series LED tube light fittings are normally used in the chemical and petrochemical plants, off-shore platforms, refineries and any other industry where hazardous atmospheres (gas and combustible dust) are potentially present. The LLN -P range has been designed to meet the main requirements of illumination of working areas.
Supermec, always pays special attention to local problems inside the plants. For installation in tropical environments, LLN -P Series can be provided with breather to avoid water condensation that, mixed with chemical agents, is the first cause of corrosion of electrical components inside the enclosures.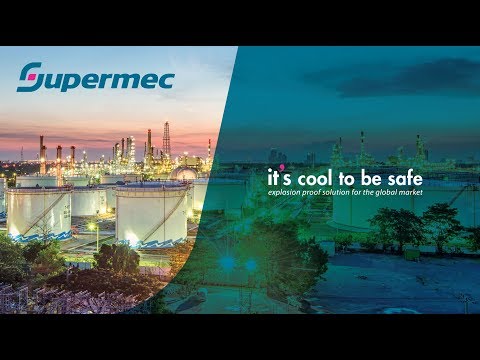 LLN - P Explosion proof LED Light Fitting

product
code

overall dimensions and weight

fixing dimensions

electrical data
A
B
C
kg
b
∅
lampholder
power
voltage
LLN 110P
698
222
145
4.8
400
M8
G13 LED
1 x 10 W
AC100-240V 50/60Hz

LLN

119P
1310
222
145
7.7
800
M8

G13 LED

1 x 19 W

LLN 210

P
698
222
145
4.8
800
M8

G13 LED

2 x 10 W

LLN 219

P
1310
222
145
7.7
400
M8

G13 LED

2 x 19 W
The LLN -P series LED lighting fixture are available with two different bodies suitable for installation of single or double LED tube to satisfy every illumination requirements inside hazardous areas classified as Zone 2 and /or Zone 22. The internal wiring is designed to allow any combination of loop-in loop-out installation. The light fitting can be installed using different mounting types as described in dedicated section of this catalogue.
The materials used to manufacture the LLN -P series have been studied to grant the maximum protection against the highly corrosive agents present in these industries:
• the body in glass fiber reinforced polyester (GRP), provides a very high mechanical strength together with a good resistance against the UV ray effects;
• the transparent diffuser in UV ray resistance polycarbonate has a self-extinguishing property according to Standard UL 94;
• the gasket on cover grants an IP66 protection level ;
• the closing system in one single spot, apart from facilitating greatly the maintenance operations, is itself a guarantee of first-rate holding system since it provides a constant pressure of seals over all the perimeter of the diffuser ;
• the internal electrical components are fully sealed to prevent any corrosive action that could cause electrical faults;
• the body has two cable entries M25x1.5 on one side and one cable entry M25x1.5 on the opposite side so to allow any loop-in loop-out installation. On request it's possible to have two cable entries M25x1.5 on both sides;
• all the light fittings are equipped, as standard, with one cable gland and two stopping plugs in polyamide, IECEx/Atex certified. Other materials or combinations are available as option;
• the Philips LED tube is installed on dedicated lampholder; other models are available on request;
• Ex d safety switch directly connected to cover closing system is available on request;
• as option the internal circuit can be protected by Ex mb fuse so to minimize any possible problems caused by over-voltage during normal operation;
certificate number: IECEx CML 17.0099X CML 17 ATEX 4183X
marking: ` II 3GD Ex d mb nA IIC T4 Gc Ex t IIIC T80°C Db
ambient temperature: -25°C +50°C
degree of protection: IP66
conformity: Directive ATEX 2014/34/EU
standards: IEC-EN60079-0 / IEC-EN60079-1 / IEC-EN60079-15 IEC-EN60079-18 / IEC-EN60079-31
category: suitable for Zone 2 (gas) and Zone 22 (dust)